Because our dogs are an integral part of our daily lives and are like members of the family and so deserve the best food. It has been proven that Dog Chef has many health benefits for our pets. So much so, that a blog post would not be enough to review them all… We'll tell you everything!
5 recipes to make their whiskers stand up
You read that right, at Dog Chef, there is no lack of choice! In order to provide a maximum of variety, we have designed five delicious recipes in collaboration with veterinarians specialising in canine nutrition: chicken, beef, pork, duck en fish (hypoallergenic). These recipes contain all the nutrients your dog needs to maintain a healthy metabolism and are suitable for all types of dogs.
A "hand-made" menu
Every dog is unique and deserves a proper diet. Whether your dog is a puppy, adult, senior, allergenic, overweight, difficult eater,… Dog Chef adapts to your dog by offering it a tailor-made diet, perfectly suited to its lifestyle, age, breed and sex.
How is this possible? Thanks to our online calculator! Just set up a profile for your dog with all its characteristics (age, breed, weight, build, physical activity, etc.) and in a few seconds you will receive an estimate of the ideal daily portions for your dog! Practical, isn't it?
Fresh ingredients and nothing else!
At Dog Chef, we only cook fresh food carefully selected. In short, the ingredients you eat are the same you find in your pet's bowl. Because we believe that they deserve to eat healthy as much as we do.
Our meals are cooked at low temperatures to eliminate bacteria while preserving the nutrients. This type of cooking also increases palatability and digestibility.
The perfect balance
Each recipe contains between 50 and 55% meat, more than 30% vegetables, 10% starch, minerals, vitamins and fatty acids essential for your dog's health.
All these high quality ingredients are free from preservatives, gluten and flavour enhancers and are accompanied by food supplements to complete the nutritional intake that your dog needs.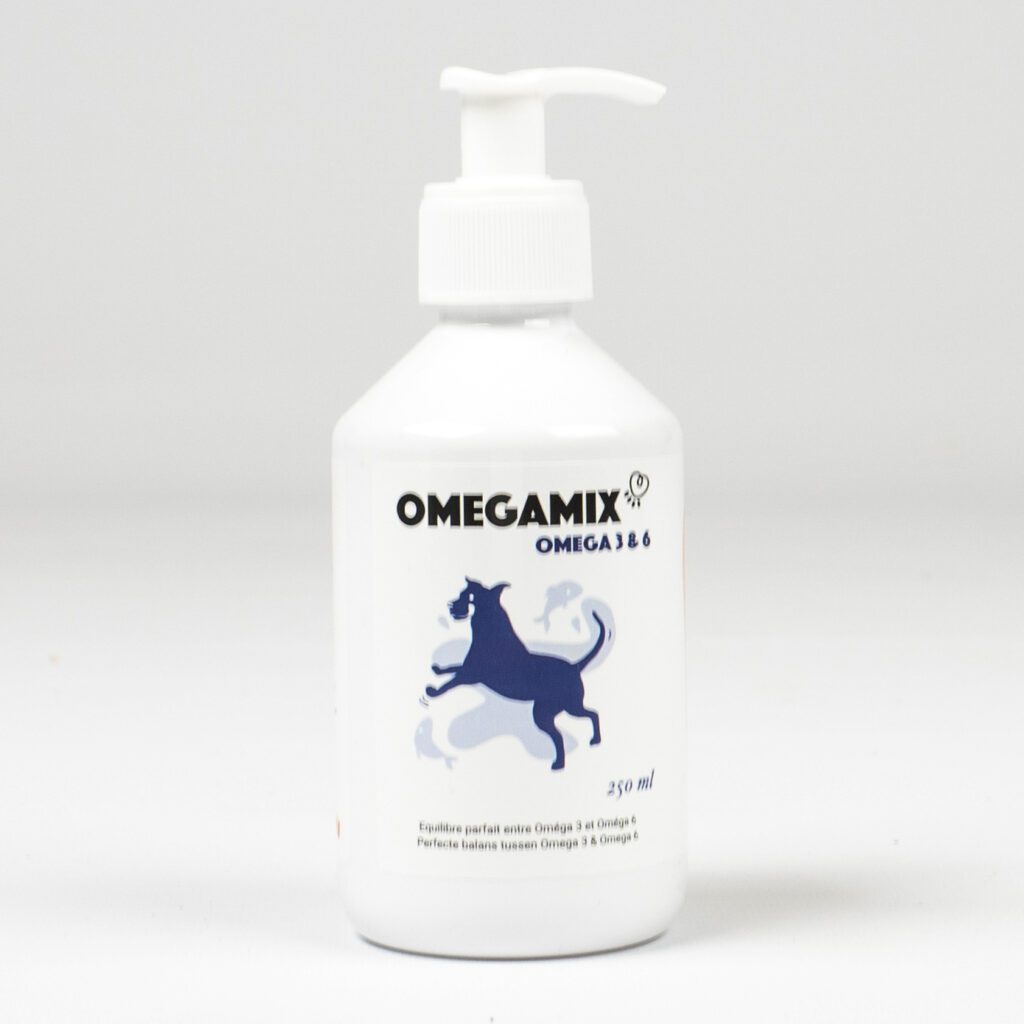 Omega Mix is a nutritional supplement that contains sardine, rapeseed and sunflower oil. It provides a good balance of omega 3 and 6. It contributes to skin and coat health, strengthens heart function, calms the immune system and nourishes the joints.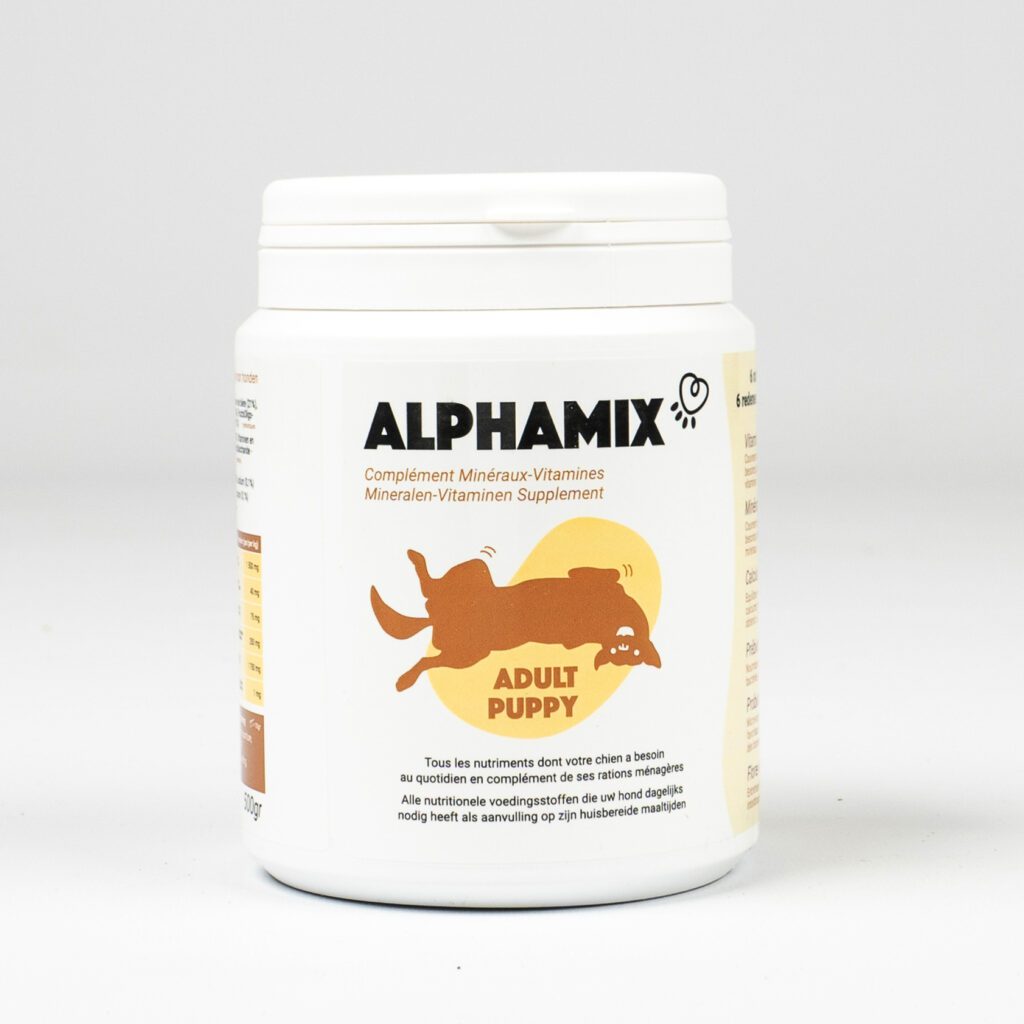 Alpha Mix is a nutritional supplement for puppies and adult dogs. It contains vitamins, minerals and pre- and probiotics that are beneficial to the intestinal flora.
The Senior Alpha Mix is designed for senior dogs. It is low in calcium and phosphorus, making it ideal for the older ones of our faithful companions.
---
No more worries!
Good digestion
Made with only unprocessed ingredients, real meat, delicious vegetables, and just the right amount of fibre, our recipes are gently cooked to help your pooch absorb the right nutrients and aid digestion. For an easy transition and a healthy intestinal flora!
A controlled weight
Dog Chef's food rations are perfectly proportioned to cover your pet's energy needs. The dreaded risk of overweight or obesity is a thing of the past.
All our recipes are gluten-free and low-carb. In short, Dog Chef is a gourmet and balanced diet that contributes to your dog's health. Who can ask for more?
A silky coat
Say hello to a soft coat and beautiful skin with our perfectly designed recipes based on foods rich in proteins, vitamins, minerals and fatty acids. We know who will steal the show at the next family dinner..
Intense hydration
A dog fed with Dog Chef is a dog less prone to dehydration because the home-made rations contain up to 80% more water compared with dry food. Feeding your dog a water-rich diet greatly reduces the risk of intestinal obstruction.
A boost of energy
Each of our recipes is made with high quality ingredients that allow your pet to get 100% of the benefits of its food: a full complement of vitamins and minerals, for a great potato!
A stronger immune system
Rich in fibre, vitamins and minerals, our recipes are perfectly suited to maintaining your dog's intestinal flora and feeding the good bacteria in its intestines. There is nothing better for strengthening your dog's immune system.
A longer life at your side
Adopting home-made rations greatly reduces the risk of diabetes, chronic intestinal inflammation, dermatitis, urinary tract infections and many other common diseases.
A feeling of satiety guaranteed
Home-made rations have the advantage of providing a high level of satiety because they contain a lot of water and fibre. The volume of food is therefore proportionally greater than is the case of dry food. As a result, the stomach will more quickly send a signal to the brain that it has eaten enough.
Zero headaches
Our calculator offers you a tailor-made menu to cover your dog's daily energy needs.
We deliver all this happiness to your home every month according to your availability. In addition to being ultra flexible, the Dog Chef subscription is without obligation. No worries, you can stop it whenever you want.
Your pet will enjoy delicious meals and the health benefits of fresh food specially prepared for it.