You may be wondering what ingredients are included in our recipes to make your pet enjoy his meals with so much passion? At Dog Chef, we have no secrets! We'll tell you all about what's in your dog's bowl.
More than 50% meat
All Dog Chef meals are made with over 50% meat that you could use for your own meals! This muscle meat is also mixed with organ meat (liver, gizzard, heart) which is an excellent source of lean protein, vitamins, minerals and iron.
Essential to the development and proper functioning of the body, chicken, beef, duck and pork are delicacies of choice for our 4-legged friends and have a considerable place in the diet of our dogs.
… and fish
Fish is a source of significant benefits for our 4-legged friends. To keep our recipe balanced, we have combined salmon with Alaska Pollock, a lean fish that provides it with a high protein content. Salmon have many benefits for our furry friends. Rich in essential fatty acids, omega 3 and nutrients, a dog fed with regular and controlled intakes of oily fish will tend to have a better coat and less inflammation. In addition, they are more easily digestible than meat and cause fewer allergies.
But that's not all!
Depending on the source of meat or fish, the amount of starch (rice, potatoes, sweet potatoes, etc.) may vary so that your pooch's energy needs are fully covered. These starches include:
Sweet potatoes

give an energy boost because they are rich in carbohydrates and minerals. They are also an excellent dose of fibre and facilitate transit. A real nutritional and tasty supplement!
Cooked

potatoes

provide a lot of energy, fibre and B vitamins. They have the advantage of being relatively easy to digest but should be given in moderation. Their high glycaemic index may raise the dog's blood sugar level after eating them.
Rice

is a significant source of carbohydrates. When cooked properly, it is excellent for dogs with digestive problems and helps keep your dog's blood pressure under control thanks to the sodium.
Quinoa

offers a range of health benefits to our dogs due to its high nutrient content: complex carbohydrates, essential amino acids, fibre, vitamin E, iron, calcium, etc. The list goes on! These nutrients give the animal energy, refine its brain functions, regulate blood sugar and keep the coat, teeth and claws healthy.
Carrots

are a source of antioxidants and vitamin A. They also add flavour to the dish and are particularly popular with our pooches. Delicious to chew as a reward, they prevent the formation of dental plaque and are ideal for preserving vision.
Beans

, when eaten well-cooked, contain water, fibre and provide some omega 3 and vitamins. They have a satiety effect and should therefore be eaten in small quantities.
Parsnips

contain vitamins C and B, folic acid and potassium. They are very good for metabolism and the nervous system and are beneficial for dogs with kidney disease. They are also anti-inflammatory.
Courgettes

are ideal for constipated dogs. Rich in vitamin A, fibre and antioxidants, they aid digestion and the absorption of nutrients needed for proper body function. They also boost the immune system and preserve the coat and claws. Filled with minerals, they are an excellent way to hydrate your pet.
Chia seeds

are an excellent source of omega-3, 6 and 9 fatty acids and fibre, which are rich in micronutrients. Their high fibre content allows them to regulate intestinal transit. In addition, they promote the puppy's growth and brain development. An excellent food supplement!
Buckwheat

is a small seed that is reminiscent of the taste of hazelnuts. Rich in fibre, it is also a good source of copper, magnesium, manganese and B vitamins.
The finishing touch
Our food supplements, AlphaMix and OmegaMix, are added to each Dog Chef meal. All our recipes have been developed to be accompanied by food supplements that will complete the nutritional intake your dog needs on a daily basis. They are therefore non-negotiable!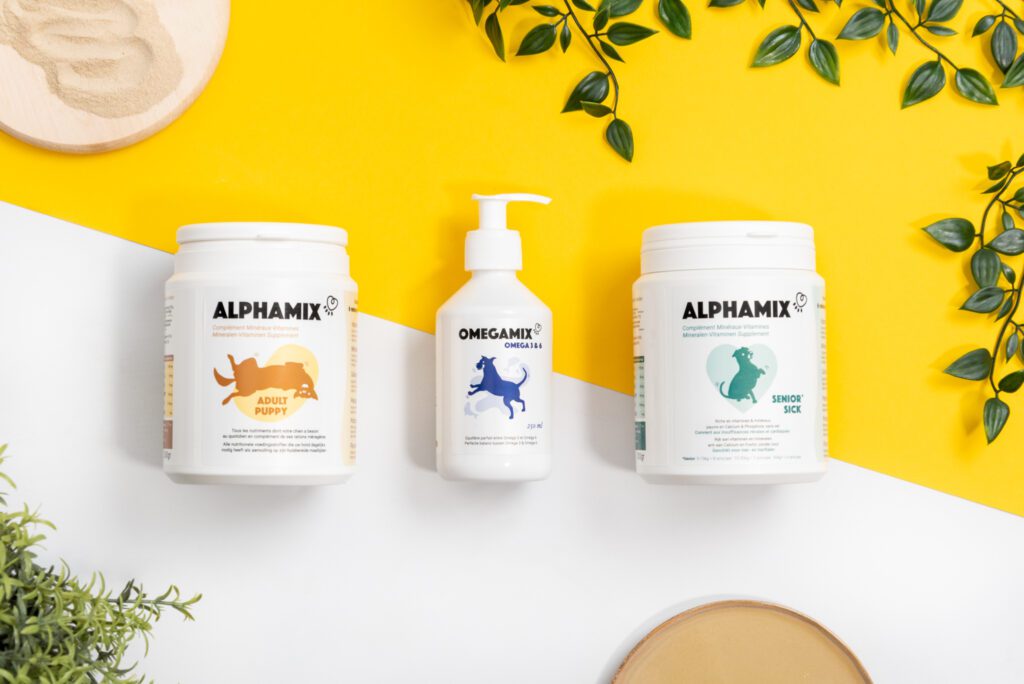 OmegaMix

is a nutritional supplement that contains sardine, rapeseed and sunflower oils. It provides a good balance of omega 3 and 6. It improves the quality of the skin and coat, supports the immune system and keeps the joints supple.
AlphaMix Puppy/Adult

is a source of calcium for puppies and adult dogs. Indispensable for the health of our furry friends, it constitutes the ideal daily intake of vitamins, minerals, pre- and probiotics.
AlphaMix Senior

is a source of calcium for senior dogs. Rich in taurine, vitamins and minerals, it ensures optimal health for the older members of our faithful companions.
In short, a homemade mix consists of a number of ingredients that are intended to provide sufficient energy. It's not always easy to get the ingredients right, so Dog Chef does it for you! Make it easy for yourself by ordering our delicious meals at www.dogchef.be and see the benefits!